AirWorks was founded with the vision that UAV's could be used to speed up the process of traditional land surveying by allowing faster and safer collection of data. Many survey and engineering firms have recognized the potential efficiencies of UAV's and have adopted them to help better serve their clients. The same is true for firms in the real estate and construction industries who seek to improve efficiencies by employing emerging technology.
According to the report titled "Drones go to Work" by Boston Consulting Group "As drone adoption accelerates, the value will quickly shift from drone makers to the providers of drone-related services." (image source: Boston Consulting Group, Drones go to Work by Alexandre Amoukteh, Joel Janda, and Justin Vincent)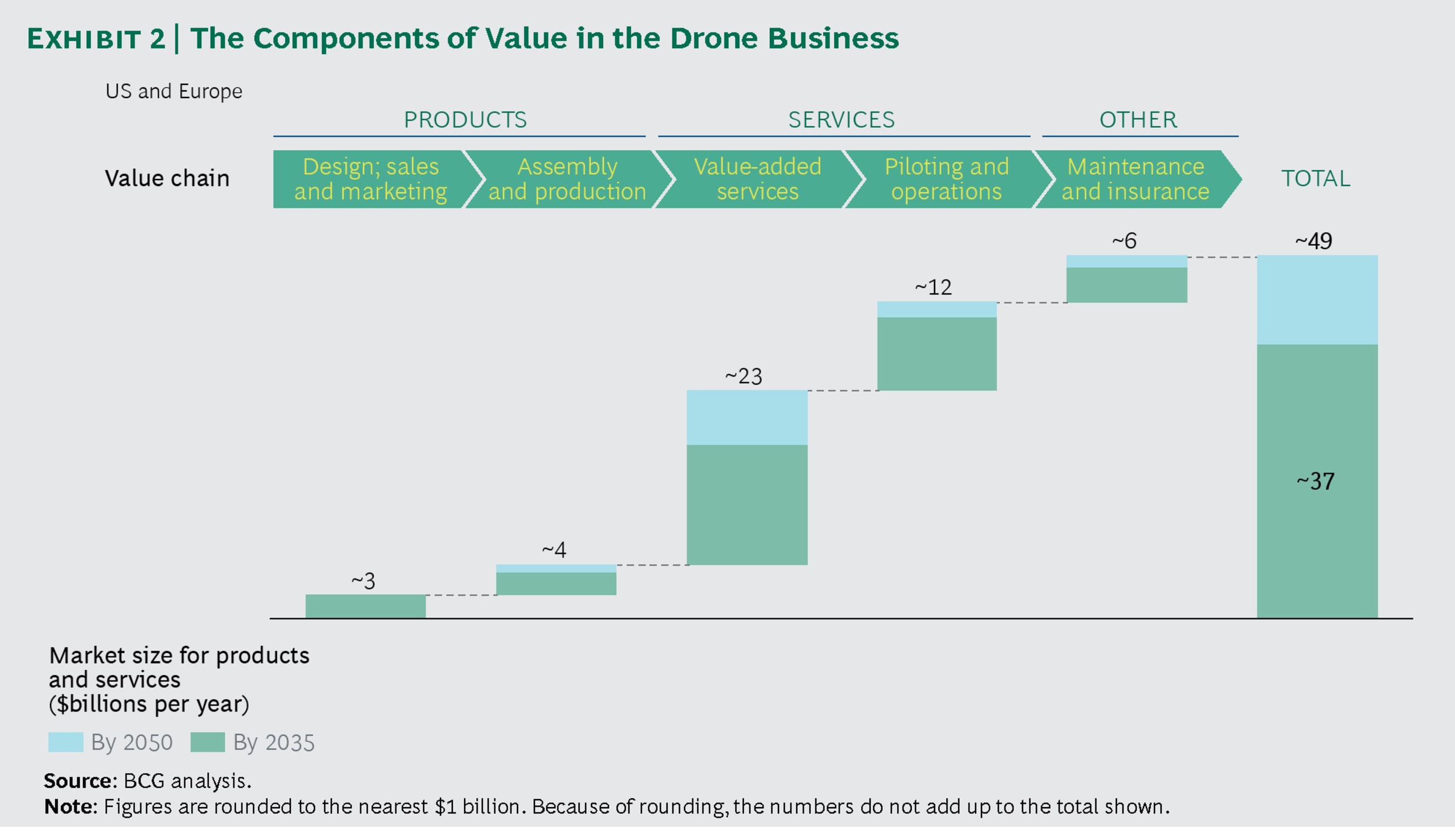 One example of drone related services is how the land surveying profession has adopted UAV's to augment their existing data collection techniques. Land surveyors can use UAV's to capture imagery for projects and use that to prepare their existing conditions plans and topographic mapping. However; as we mentioned in our last newsletter, once data is collected by a UAV someone (a person) still must do the repetitive work of drafting the linework in order to create the existing conditions plans. Here at AirWorks we have developed AI powered software that will process aerial data sets to create usable CAD files.

For firms using UAV's for their surveying and mapping projects a simplified workflow might look something like this:

With the majority of labor being spent on CAD drafting (tracing of existing conditions) AirWorks recognized an opportunity to create a tool to help surveyors, engineers, contractors and ultimately their clients. Our software uses Artificial Intelligence (AI) and Machine Learning (ML) to detect features from your UAV imagery, after the features are identified the software draws the linework and provides the user with a .dxf file output.

By employing UAV's to capture aerial data engineering, surveying and construction firms can bring value to projects of all sizes and types. UAV's can be deployed rapidly (depending on airspace restrictions), can be operated with a small labor force, can access sites that humans can't or shouldn't access and can capture large areas quickly. Being able to exploit the data captured is the next phase in the evolution of aerial mapping. AirWorks has created a tool to quickly and easily add significant value to any UAV mapping business by giving users the ability to create CAD files in minutes instead of days.

Incorporating AirWorks into your mapping workflow can have some significant business benefits including the following:
1. CUT DRAFTING TIME IN HALF - Our software automates drafting of up to 10 features including topography, buildings, roads, pavement striping, manholes, drains and vegetation. Let our software create a usable CAD (.dxf) file in minutes that would normally take days to draft (trace) from aerial imagery.

2. HIGHER PRODUCTIVITY – By automating portions of your drafting workflow your staff can spend more time on value-add tasks including detailed design work.

3. IMPROVED EMPLOYEE SATISFACTION – Reduce the volume of dull and repetitive tasks your employees are performing. Professional CAD designers and drafters are in demand, use their time on challenging tasks not on tracing lines in aerial imagery.

4. MAKE DECISIONS SOONER – Have detailed existing conditions plans in days instead of weeks or months by combining UAV data collection with AI powered software. Identify challenges and problems earlier with up to date imagery, topography and existing conditions.

5. IMPROVE QUALITY CONTROL - Reduced drafting efforts allows you to spend more time on quality control. Let your staff work on making sure your firm produces quality deliverables by giving them the latest tools to speed up mapping workflow.

6. INCREASE PROFITS - Our software can drastically reduce drafting costs per project, meaning greater profit margins for your projects. Do more projects in less time, add to your capacity without adding staff.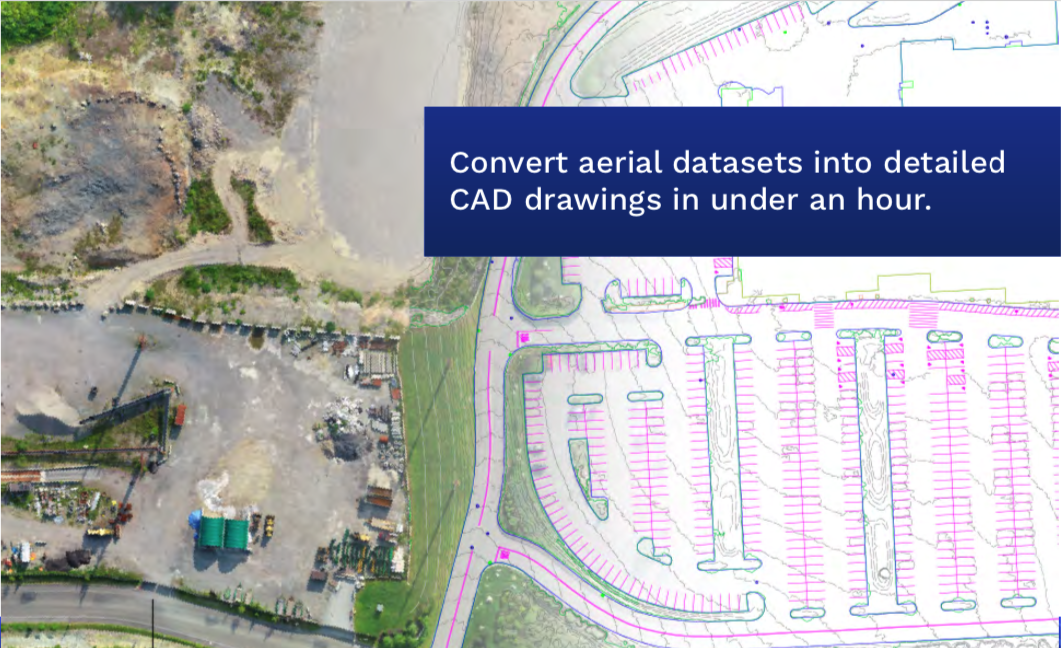 In recent internal testing we put our software to the test against our experienced CAD drafters to validate our claim that AirWorks is good for your mapping business. Our test consisted of a timed exercise where two of our CAD drafters were challenged to create a detailed existing conditions plan of the same site. One drafter would do it by tracing aerial imagery, the other would use the AirWorks platform to do the initial drafting work.

Even we were impressed by the results that this testing showed. The drafter using our AirWorks platform was able to finish his work in 40% less time than by tracing alone. (In reality we actually expect better results for firms that use AirWorks software – our drafters are competitive, and the tracing-only drafter didn't take any breaks in his attempt to win! Sadly he still lost.)

To highlight the potential cost savings and value proposition we put together a potential scenario of how saving 40% of time on UAV projects could benefit your firm. Assuming it takes a drafter 1 hour per acre to draft existing conditions, for the 30 acre site we used cutting the drafting time by 40% saved 12 hours. If that drafter is billed at an hourly rate of $90 per hour the savings equates to $1,080. Using our software on a single project every month would pay for itself.