Conventional surveying can be an inherently inefficient process. Maneuvering equipment while paying attention to hazardous surroundings, like traffic or precarious footings, means surveyors have to split their focus and expend more time and energy to ensure they stay safe while collecting accurate data. This can be especially taxing and cumbersome when covering a large site. Drones are helping to solve these issues, but this innovative, time-saving surveying field method is creating a new, time-consuming office challenge.
Background:
Ruben Surveying & Mapping Inc. provides top-of-the-line surveying services to clients across Florida. Their projects range from single-family home land development to FDOT bridge construction to federal levee rehabilitation.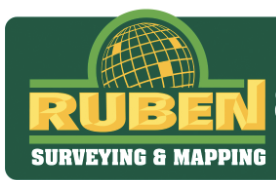 Ruben Surveying & Mapping believes cutting-edge technology is the key to providing their clients with the highest quality service. They are dedicated to seeking out and training their employees on the latest tech to deliver timely and budget-conscious surveying and mapping solutions.
In 2020, Ruben Surveying expanded its surveying tech to include UAS. By becoming proficient with Lidar and photogrammetry for topographic, ALTA, and as-built surveys, the firm has seen a substantial increase in field efficiency. They continue to be receptive to new technology that can boost productivity – and recently discovered AirWorks' AI drafting software as a way to further improve the effectiveness of their drone program.
Challenge:
In the case of the Holley-Navarre water treatment plant, Ruben was facing a host of site-specific surveying challenges, including obtaining measurements from the top of water tanks, catwalks, and restricted areas. Additionally, the project included mapping a long corridor between Holley-Navarre and a neighboring plant. Project manager Ron Ruben, PLS determined that UAS photogrammetric data collection would be the safest and most efficient field method. However, due to the complicated and extensive nature of the treatment plant and corridor, the project was on track to present a significant challenge back in the office. Having dealt with the tedious process of extracting linework from aerial imagery in past projects, Ruben knew his drafting team would have to spend days identifying and tracing the site features to create the final CAD deliverables.
Solution:
Having been introduced to AirWorks in the fall of 2021 by their Part 107 pilot, Ross Kenney, Ruben realized the water treatment plant's feature-packed layout and lengthy connection route made the Holley-Navarre project a prime candidate to send off for processing. AirWorks' AI software ended up being the ideal solution for expertly extracting the 2D linework for the unique site features, including:
Outer and inner walls of wastewater treatment tanks
Catwalks across tanks
Manholes
Concrete pads
Utility boxes
Pavement
Fences
Light poles and overhead lines
Vegetation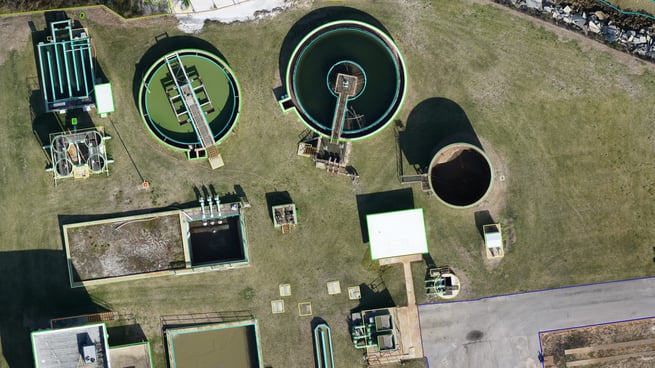 Benefits:
Ruben calculated that the complicated 52-acre wastewater treatment plant and corridor would have taken an in-house technician 26 hours to draft in Civil 3D.

With AirWorks, processing time was reduced to four hours.

The move saved nearly $1,100 in drafting, while also keeping their technicians free to work on additional projects.
With Holley-Navarre and subsequent projects, what has stood out most to Ruben is AirWorks' ease of use. In his experience, new technology usually comes with a steep learning curve and requires time and money to train staff with new skills. With AirWorks, Ruben's team can simply upload their files to the software's user-friendly and convenient web app. Any time a question or issue
has come up, they've been able to easily contact AirWorks' customer success team for a quick resolution.
Ultimately, Ruben has enjoyed uploading field data with just a few clicks and receiving accurate, timely deliverables with zero disruption to workflow. AirWorks' AI + live QA/QC has cons
istently provided high-quality final products that meet Ruben Surveying & Mapping's standards and deadlines.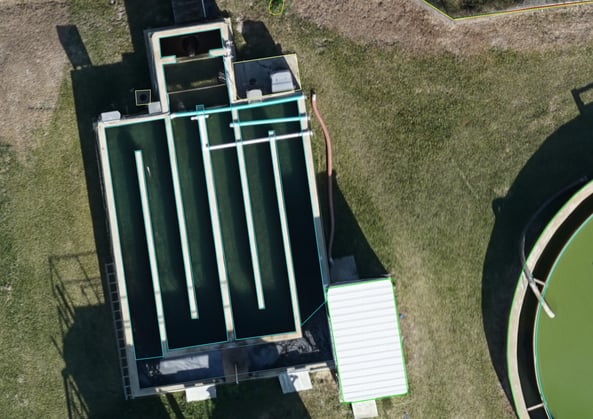 Future
Although their drone program was a big win for field efficiency, Ruben's team struggled to match that efficiency in the office. By integrating AirWorks into their workflow, Ruben Surveying & Mapping now has a modern drafting solution that complements the sleek performance of their field tech. Currently, Ruben sends any UAS as-built or ALTA surveys to AirWorks for CAD linework and feature extraction. Moving forward, he hopes to find new project types and ventures in which his team can further involve AirWorks. "It seems to me that using AirWorks to extract linework and features from aerial imagery is a necessary step to continue to push the surveying and mapping industry forward."
---