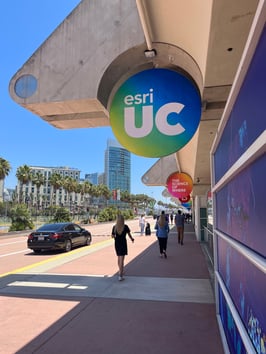 Are you still riding a wave of excitement after attending the 2023 Esri User Conference? We certainly are!
The AirWorks team had an amazing time in San Diego learning about the latest industry trends and connecting with fellow GIS-ers. Being able to network with old and new friends in person and share our technology with those looking to deliver more projects faster was definitely our biggest highlight.
Personally, this was my first UC, and I tried to soak in as much as possible. I could not get enough of the gorgeous seaport views! Plus, I was thrilled to reconnect with previous co-workers from Woolpert and other acquaintances I've made throughout the industry – I even got to meet up with tons of Ohio folks up at Bootlegger! Oh, and I couldn't leave California without getting a little bit of beach time in La Jolla…Definitely left the surfing to David Morczinek, though.
But of course, the main event was current developments and industry trends in GIS. After reflecting on the many presentations, panels, and conversations from the UC, here are my top five takeaways for the top trends in GIS right now, with a focus on actionable insights in the built environment:
1. Enabling sustainability
From low-carbon construction to energy efficiency to natural disaster resilience, GIS will continue to play an increasing role in sustainability efforts. Organizations of every size and type are investing in geospatial data to make informed decisions that minimize environmental impact while promoting sustainable choices.
Specifically, in the built environment, GIS is positioning the construction industry to:
Assess the environmental impact of construction

Promote energy efficiency through BIM integration for new and existing projects

Source environmentally conscious materials.
With both businesses and consumers in the market for a sustainable future, GIS is leading the way, and AirWorks is ready to fuel the geospatial data driving it forward.
2. Generating more efficient, effective insights for policies and planning
Every day, we're seeing how social, economic, and environmental issues are more interconnected than we may have thought. As a result, all levels of government are recognizing the value of robust and versatile GIS databases. Instead of addressing problems separately, GIS is helping jurisdictions integrate more and more layers of information to draw deeper insights for increasingly effective, interwoven solutions.
AirWorks' AI-powered geospatial feature extraction is providing communities with rapid insights into assets, such as impervious surface area and existing infrastructure. These GIS deliverables are helping policymakers visualize new approaches to everything from stormwater clean-up to resilient utilities. With the proper analysis, this type of comprehensive geospatial data can lead to better public services, better allocation of resources, and better quality of life.
3. Facilitating high-speed internet for all
Public and private entities are coming together in a concerted effort to help bring this critical modern utility to every American by 2030. First and foremost, GIS is creating the basis for identifying the last locations of unserved or underserved populations. Then, as jurisdictions allocate federal grant money and providers explore design and installation options, they'll rely on GIS to make smart investments.
With so much ground to cover, AirWorks is helping service providers leverage AI to develop site plans for permitting, design, and future planning. By empowering streamlined workflows and actionable GIS deliverables for the telecom industry, AirWorks is ready to help meet the goal of broadband for all by 2030.
4. Merging with AI for optimized workflows and deeper insights
Throughout the UC, it was clear that interest in AI and automation is at an all-time high – and rapidly increasing. AI-powered tools are transforming how geospatial data is processed, analyzed, and transformed into actionable insights. Every industry invests in AI-driven solutions to optimize workflows, reduce tedious tasks, or enhance the speed, accuracy, and output of their analyses.
At AirWorks, we're proud to be part of this AI revolution! With our automated drafting, countless partners are enjoying getting more work done faster, having more time for customer-driven tasks, and being able to take on more projects.
5. Creating endless potential!
What's next for GIS? New analytics? More comprehensive integrations? Deeper interconnectedness? The sky is the limit!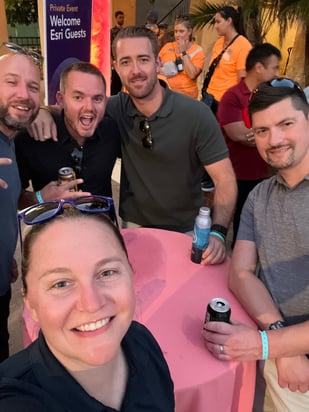 I walked away from the UC feeling exhilarated by the limitless potential of GIS technology and its impact. GIS is continually reshaping how we perceive our surroundings and brainstorm solutions to our social, economic, and environmental challenges. Moving forward, it's exciting to think how evolving GIS technology combined with continually fresh approaches to collecting and analyzing data will spark groundbreaking use cases.
Overall, the 2023 Esri UC emphasized how widespread applications of GIS will be pivotal in ensuring a brighter future for all. At AirWorks, we're excited to be a part of this journey.
---
Are you ready to see how you can leverage automated geospatial feature extraction to make faster, more informed decisions? Contact our team today to get started!