The use and implementation of drones in civil engineering has quickly gone from forward-thinking trend to necessity, especially in the fields of GIS mapping. Known in the industry as Unmanned Aerial Vehicles (UAVs), drones provide multiple efficiencies in spatial and geographic mapping and data gathering. For civil engineers and land surveyors, drones' photography, recording and, data collection capabilities represent a massive opportunity to optimize processes and complete tasks in record time.
Why should you consider implementing drones in your future mapping projects? Convenience, speed, and cost. They are superior to people in the sense that they can fill-in the role of gathering accurate data, at a far faster pace than humans. On top of this, drones make for fast repeat mapping of sites, allowing teams to examine changes in a construction site over time.
In the past, aerial mapping required the use of helicopters, planes, or satellites to get accurate maps of large areas. Now, with the relative ease of purchasing a drone, teams have the ability to reduce operational costs and improve efficiency, particularly in mapping jobs. With drones, a mapping project that would take months to complete can now take days or even hours from start to finish.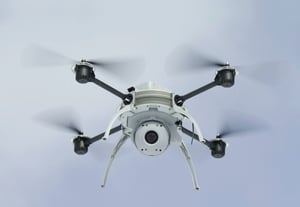 A good example of drones' capabilities is the Aeryon Scout, a drone produced from 2009 to 2015, which was capable of mapping a 50 square acre area in under 12 minutes, with a ground sample distance of one inch per pixel. The Aeryon Scout had a top speed of 50 km/h, a ceiling of 500 feet and three payload options for image taking: Photo3s for high-resolution images, VideoZoom10X for 10X optical zoom video, and thermal infrared video. Safe to say, it had a lot of features and uses, many of which would be beneficial to a firm even today.
With tools like this one, it's easy to see why they are a good tool for businesses to implement. Jobs will be done quickly, they pose minimal risk and save on labor costs going forward through their speed and usability, such as monitoring multiple job sites and acquiring data quickly. While the upfront might be costly, the long term benefits outweigh the costs. If you haven't already, consider getting a drone for your business, and save time and money on mapping.
AirWorks' AI-powered software provides firms in the built world who have drone-collected aerial data a time effective and powerful tool to save time and money on CAD drafting.
---
"Aeryon Announces Version 5 of the Aeryon Scout System | Aeryon Labs Inc"