Say the word "surveyor" and the average person might think of George Washington looking through his level while his hand-held compass tells him which way is north. But land surveyors do so much more than setting a couple of property corners and calling it a day.
Land surveyors play a critical role in the Architecture, Engineering, and Construction (AEC) industry. Besides researching legal records and performing precise, and sometimes challenging, boundary determinations, surveyors are crucial to constructing buildings, roads, and bridges. Nothing gets built without a surveyor on the job site.
But as we all know; the working world is cyclical. As one generation of workers in any profession calls it a career, the next generation takes the industry by storm, ready to leave their mark. Unfortunately for those in the AEC realm, surveyors are retiring faster than they can be replaced.
According to the New Hampshire Land Surveyor's Association (NHLSAP), the average age of professional surveyors is 57. Some states are seeing surveyor yearly retirement rates as much as 10 percent. Despite the potential openings and room for advancement as some surveyors hang up their plumb bob, the numbers of future surveyors needed simply aren't there.
The U.S. Bureau of Labor notes that from 2020 to 2030, surveyor employment will grow at a mere 2 percent. That is a slower rate than the average for all other occupations.
As the field of existing skilled surveyors below the retirement age continues to shrink, firms are left with a growing concern that when their staff does choose to retire, there will be a mad dash to find an adequate replacement. There is an even bigger fear that with varying state educational requirements, young surveyors will favor some states over others, further narrowing the pool of qualified applicants.
So, what are civil engineering and land surveying firms to do about this? How can they begin preparing today for an eventual loss of senior-level surveyors? One way is to begin training and promoting internally, but that could still leave them with a significant labor shortage, especially in cases with small teams or junior teams not ready to be promoted yet.
The best solution would be to also think about implementing technological advances to supplement the shortage. And a company like AirWorks can help them fill that void.
Sure, technology can't make a boundary determination and then sign and stamp a plan for recording. Licensed land surveyors will always be needed to perform that critical function. But with fewer and fewer of them available, their time will need to be focused on the work that necessitates a stamp.
AirWorks' AI-powered software can provide surveyors with the basemaps and CAD drawings they need that will wind up in the hands of engineers for design work.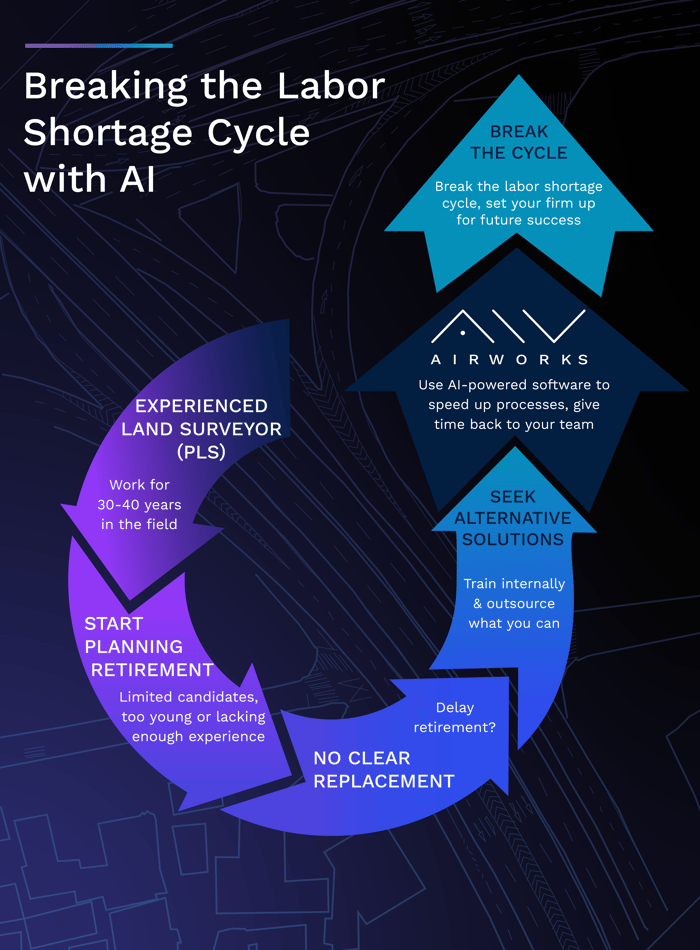 Our software converts aerial data into the existing conditions elements that make up a site such as contours, vegetation, roads, curbs, pavement markings, buildings, and other structures.
Use our Automate product to quickly and easily convert orthomosaic, pointcloud, and boundary files into CAD drawings. This lets licensed land surveyors focus their energies on deed and plan research, boundary determinations, legal descriptions, and ALTA title commitments.
AirWorks can help your firm still be productive, fast, and efficient even if the number of surveyors is decreasing. Sometimes the answer isn't working harder, but smarter.
---
Click here to learn more about how our software can assist with your civil engineering and land surveying needs.